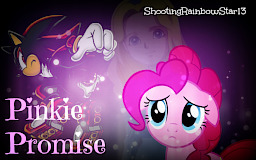 Pinkie Pie is born to make people smile. It's in her nature.
So after a few strange beings ended up in Equestria, and she got to know Shadow - the serene and lonely Hedgehog - she immediately began trying to make him happy. But so far, it hasn't been working. She's tried everything, but he just doesn't seem to be a sociable guy.
She has already learnt her lesson, thanks to Cranky Doodle. She can't just pester Shadow in an attempt to make him crack a grin. Instead, she has to find out what had turned him into such an introvert. So she decides to throw him a huge, blowout surprise party for him on Hearts and Hooves day.
But she has barely scratched the surface of Shadow's dark history. Little does she know of the things in store for her that particular Hearts and Hooves.
Chapters (3)