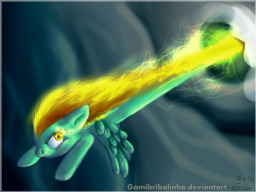 Source
Lightning Dust snorts a rail of lightning dust, kicks Thunderlane's flank, and shows everypony that she's a force to be reckoned with and is bucking awesome.
I somehow managed to post the words to this story on Fimfiction without the site overdosing and 502ing from Lightning Dust's sheer awesomeness. But even these words could never do justice to the legend that is Princess Archduchess Lightning M.F.W. Dust, Ph.D. You just had to be there.
WARNING: If you look at the cover image too long, you'll go blind just like you would if you masturbated too much or stared into the sun too long, because that picture counts as both. Thanks to Gamibribolinho for sacrificing his sight to draw this so that we could gaze upon Lightning Dust's glory.
Chapters (1)