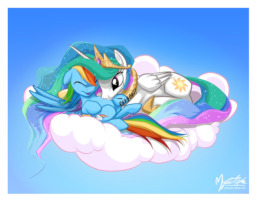 Celestia finds herself bored and annoyed with the daily grind she has to go through, dealing with the over-privileged unicorns that come to whine about their problems. Though when an especially nasty couple begin their complaints, Rainbow Dash won't be having it. Mischief and loyalty follow.
An experimental Rainbow x Celestia fic, I hope you guys enjoy.
Many thanks to ShadowBlades for editing through this for me and helping make it better.
Much appreciation to Mysticalpha for the beautiful cover art as well.
Chapters (1)