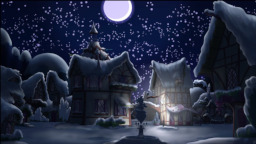 Source
A story about nobody in particular, about a simple walk in the night through the snow, that can still happen to hold a little magic under the moon and cold. Just another warm event during a night in the cold.
---
Personally, I would recommend turning on some soft and wintry music for the desired effect while reading.
---
Inspired by This Video, which is something that, isn't exactly amazing, isn't exactly grand, but it really touches me somewhere, and has become one of my favorite...things ever, kind of like my happy place. I hope you all enjoy the story, because while it may not be long, it has some passion behind it, and I hope that shines through.
Much thanks to my friend, Solidfire for helping me out with editing.
Great thanks also to Praetorius for some beautiful artwork as well!
Merry Christmas, Happy Holidays, Merry Hearths warming Eve, Happy New Year and all of that.
Chapters (1)