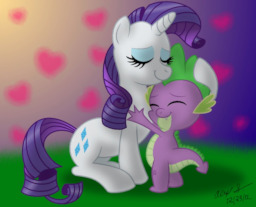 Spike finally decides to reveal his feelings for the pony he cares about, and nothing could possibly be better.
This isn't exactly full of a huge amount of conflict, it's mostly a sappy lovey dovey romance story for one of the cutest ships I've ever seen, because I'm a big sap and sucker.
Also if you're looking for the more... "spicy" scenes. They can be located here.
Cover art is My Little Spikey Wikey by Alexusprime, thanks to Deep Pond for pointing that out.
Chapters (12)