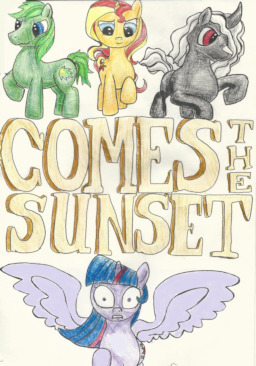 This story is a sequel to Vengeance of Dawn
---
Co-created by SirViper235
Sunset Shimmer has returned, having travelled between worlds and crossed the dark spaces between dimensions to emerge changed, both more and less than a pony. Driven by a dream of impending doom, she sets out to unite the races of the world, heedless of the destruction that she would bring upon the world in the name of saving it. With the support of the proud zebras of Grevyia she launches an assault upon Equestria that will bring down the princesses and shake the peaceful land to its foundations. Using the power of the ancient Labyrinth Box, she imprisons the four mages who alone can threaten her: Twilight Sparkle, Breaking Dawn, Trixie and Chrysalis the Changeling. Now these former foes must work together to recover their true identities and escape the terrors of their enchanted prison.
With Twilight missing, Applejack and Pinkie Pie enslaved and Canterlot taken, Rarity must take up the mantle of leadership as Regent of Equestria, while Fluttershy braves dragons, deer and griffons in her quest for allies. And, as Sunset's tyranny grows ever more cruel, it falls upon the slender shoulders of the Cutie Mark Crusaders to be the salvation of Equestria.
Update 24/11/2013: The Albinocorn and Starlight Nova have become pre-readers for this story. Many thanks to them as the grammar makes an immediate improvement.
Cover art by Dotterall
Chapters (20)