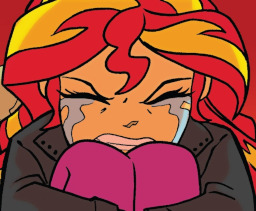 Based on the comic Equestria Girls Holiday Speical and will contain spoliers for it.
Warnings: Spoliers, dark thoughts, and attempted suicide. Read at your own risk!!!
For the first time since coming to this world, Sunset was to have a happy holiday spending time with her friends. That isn't to be though as a new blog by an, "Anon-A-Miss" turns the whole school against Sunset, including her friends. After the truth is revealed though, Sunset isn't really offered any apologies by anyone other than the real person, or people behind the blog; Applebloom, Scootaloo, and Sweetie Belle. Leaving Sugarcube Corner while everyone is talking about what had happened. As memories of the past week plauges her mind, Sunset decides to just give up since all of her hard work trying to prove that she had changed was for nothing if everyone could so easily be turned against her. Will the girls save her and prove that they love her, or will it be too late?
Chapters (2)