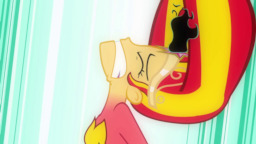 Source
"Do you know what it's like, fearing for your own sanity? Do you know what it's like not recognizing the thing you see in the mirror?"
Sunset Shimmer has been cut with the deepest wound of all: regret. She's retreated from everyone around her and even though Twilight's friends are trying to reach out to her, it doesn't seem like the former unicorn wants to be helped. Or is there something more? What could possibly drive a strong, confident lady like Sunset Shimmer to fear even her own shadow? And, is she still the same selfish girl she one was, or are her efforts to distance herself an attempt to save everyone else in the school from a horrible fate?
Set during and after the Rainbow Rocks shorts, this story tries to be as canonical as possible while giving Sunset Shimmer more depth as a person and leading up to EG2.
Chapters (1)