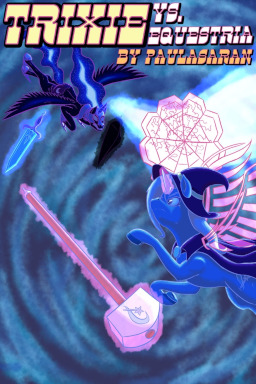 Source
This story is a sequel to Twilight's Inferno
---
This story is a sequel to Order of Shadows
---
Trixie has lost everything: her career, her fans, her precious wagon. If she can't pay her rent within a couple weeks, she won't even have a roof over her head. Things can't possibly get any worse... but then Princess Luna brushes her off in a dream. The Great and Powerful Trixie sees that as a challenge, and she doesn't back down from challenges!
Trixie gets far more than she bargained for, and she soon learns that her life can get much, much worse. Epic duels, mysteries at every turn, truths and lies mixed into each new discovery. Being Great and Powerful might not be enough. Perhaps what Trixie really needs...
...is to just be Trixie.
---
UPDATE 5/22/2014: Now featured on Equestria Daily! So much awesomeness.
More awesomer cover art commissioned from KorenCZ11!
The TvE Series
Chronologically from Top to Bottom
Order of Shadows
Twilight's Inferno
Trixie vs. Equestria
Chapters (26)