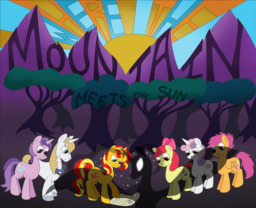 Demon. Villain. Witch. All of these malevolent words have been used to describe Sunset Shimmer. What can a mare do? She ran. And now after 10 years of running, it's time for her to leave the ghosts of her past and save Equestria. When the bearers of the Elements of Harmony disappear and the creatures of Equestria need a hero, they turn to one pony alone. Sunset Shimmer, the mare who can see where the mountain meets the sun.
---
~~Sex tag for risqué jokes and speech. Sunset's humor can be a bit perverted at times.~~
Untagged characters include: Princess Cadence, Trixie, Changelings/Chrysalis, Spike, Discord, Zecora. I'm sure there are more, but these will be the main ones you find throughout the story.
Special thanks to SirRage for proofreading,
Polaris for the first round of editing,
Drgnwolf for the major editing afterwards,
Swirling Line for the amazing cover art,
and PureLogic for help with Luna's speech in the intro paragraph!
Chapters (3)