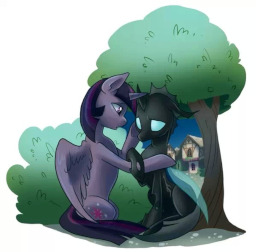 Princess Twilight Sparkle has done something unheard of: she's found a changeling right outside Canterlot borders! But much to his surprise, Twilight doesn't kill him or turn him in as the law requires. Instead, she saves his life.
And when life gives you lemons, you will feed.
---
*Featured 5/19/14—5/21/14! Thank you so much, guys! I love you all! *Proof*
Set before "Twilight's Kingdom". Twilight has been princess approximately six months. Not sure if AU tag is necessary.
My Amazing Helpers!:
spideremblembrony
SirRage
Polaris
Ariin
PoisonedArrow
Go kill them with your love!
Chapters (1)