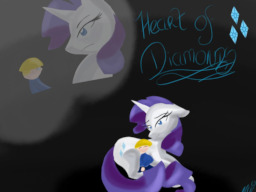 Source
Cover art done by : The Irish Pony
Rarity has always been a pony who indulges herself in the finest things in life, but also enjoys being in the company of her friends and family. She is a successful fashionista, a refined mare whose love is fashion, and a dear friend to those who need her.
From time to time she watches over her little sister Sweetie Belle while her parents are away on vacation. Sometimes she throws Sweetie off on one of her friends so she don't have to bother with her at times although she does love her sister.
However, how would Rarity react when discovers an abandoned child, a human child to be exact? How would she respond when she is thrown into being the mother figure/caretaker of this small one?
I want to thank http://www.fimfiction.net/user/midnightshadow1] for the name suggestion of Connor
CoverArt Photo done by: http://kuroiraishu.deviantart.com/
Chapters (26)