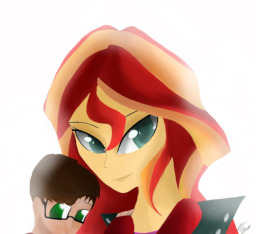 Source
Cover Art done by: The Irish Pony
Two years has passed since Toby arrived in Equestria, and he is now eight years old. On a beautiful spring day, he is invited, along with his family to the Crystal Empire by Princess Cadence and Prince Shining Armor, his aunt and uncle. They give him a tour of the Crystal Palace where he stumbles upon a strange looking mirror.
The mirror entices Toby beyond belief, so he wishes to get a closer look.
To his surprise, the mirror's allure causes Toby to lose his most valued, his most prized possession.
Struck with sadness, and a sudden determination the likes of which Toby has never mustered before, the young boy must go forth...into the unknown, to get back the one item that has arguably kept him at peace with life.
Inside this whole new world, Toby encounters a majority of creatures. Not only do these creatures remind Toby of his own kind, but many of the beings seem oddly familiar to Toby.
Toby may seem to know these other-worlders, but how will Toby react when he finds out they know nothing of him?
Will Toby succeed in bringing home his prized item? Or will time run out, and Toby's "New Home"....will become his permanent one?
A collaboration I am working on with fred2266.
Cover art courtesy of: http://joseph11stanton.deviantart.com/art/My-Little-Pony-Equestria-Girls-371838976
Chapters (29)