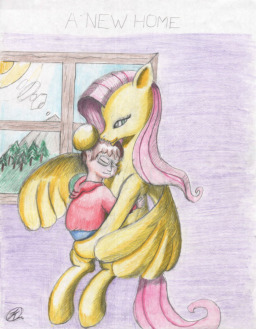 Source
I want to thank http://www.fimfiction.net/user/ShutterGuy] for the awesome picture he has done for this story. He captured Toby perfectly, so I give all credit to him and also he is a good writer, check out his story "Human and Pony alike", it is good.
Toby Mason is a six year old human child who wishes for someone to love him. One year earlier, Toby lost his mother Ashley Mason who died in a terrible car crash coming to pick him up from school one day. After Ashley's death, Toby was hard to console, but his father James Mason took the loss the hardest.
Feeling as his life ending along with Ashley's, James began drinking heavily, and in turn started becoming abusive toward Toby. Mostly verbally abusive, he would call Toby weak, pathetic, and blamed Ashley's death on him. Heartbroken by his father's actions, Toby would make a wish upon a star to find a new home, and find a new family who would love him and not be mean to him like his father.
How would the ponies of Equestria, especially The Mane Six react toward finding a lost human child in their land? Will the take him in and treat him as one of their own, or will they fear him and abandon him?
Chapters (33)