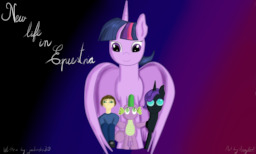 Source
This story is going to go through the process of a rewrite to keep canon with Season 4.
A young human boy of age seven is sent to Equestria by his loving parents in an attempt to save him from the end of the world. He is found by the Royal Pony Sisters and they bring him to Equestria to fulfill his parents' wish.
This takes place after Season 3 and is set in the Past Sins universe.
Edit: Changed a few of character tags.
Cover Art by PonnyGirl
Chapters (47)