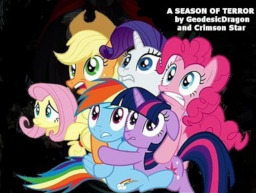 Ace has snapped, and now Doctor Robo terrorises Equestria in his bid to reform the world in his own image. Meanwhile, sinister forces are working behind the scenes and taking advantage of the chaos. What will become of Geo and Twilight, and all that they hold dear?
AUTHOR'S NOTES
This story was once known as Part Seven of the canon Geoverse, but it was declared non-canon due to a lack of updates — as well as being requested by some readers.
Co-written with Crimson Star.
Rated Teen for language and violence (in later chapters).
Chapters (6)