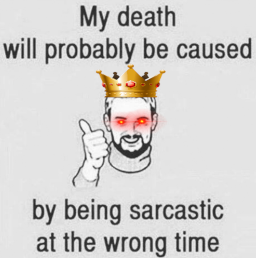 You know, I'm more than positive I've already written this before, but I can't for the life of me find that original transcript of what I had been writing. Probably got stolen or something. Shame. Then again, I might have just burnt it to kink shame Twilight and her book fetish.
Knowing me, that's probably exactly what I did.
Love you Sparky, don't try to geld me in my sleep please and thank you.
(It's literally your average HiE fic, except the guy is British, swears like there's no tomorrow and will most definitely be the grandest sarcastic arsehole that ever graced the land at the best of times. )
AN

Buckle up kiddos, we're doing the fucking time warp. Re-rewrite of the original with new and old shit happening. Variety is the spice of life, after all.
In case anyone remembers this story and thinks that I went through the trash to steal this story from the original author?
I am the original author. Give me your credit card details.
Chapters (2)