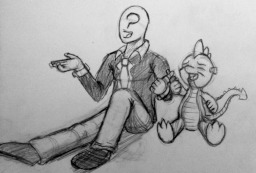 Source
It's a tale as old as time: a human finds himself landed in Equestria by mysterious means. But there's a catch: he's a snarky, socially awkward, black nerd. So, a slight race difference overall. Uh, anyway, after spending months living in the Everfree with only his wits and thievery, Anon finally finds himself as the mysterious new resident of Ponyville. Will Anon learn to make friends, defend himself against horse shenanigans, and discover why he was isekai'd in the first place?
I dunno. Read it, or your racist or something.
I mainly wrote this cause I thought it might be nice to have an Anon with a more melaninated background. Also, I want my own self-indulgent adventures.
Chapters (7)