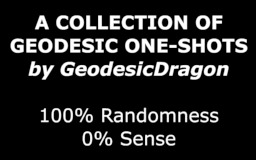 This is just a collection of things I wrote which are either too short to make into a proper story, or ideas I started and then abandoned for various reasons.
Warning: Contains 100% Randomness and 0% Sense.
AUTHOR'S NOTES
Each chapter has some tags in it to denote what the story is about. The tags are separated with spaces.
1P: 1st Person | 2P: 2nd Person | C: Comedy | S: Sad
GR: Geoverse Related | R: Romance | H: Human | OC: Original/Own Characters
OM: Overused Meme | FT: Filly Twilight | WIE: Warcraft In Equestria | BL: Bad Language
V: Violence | NC: Non-Canon* | A: Abandoned** | ST: Suggestive Themes
D: Dark | SoL: Slice of Life | Rnd: Random | X: Crossover | UKoE: UK of Equestria***
* Only used for stories which have the GR tag.
** The chapter was going to be a separate one-shot, but was scrapped for reasons specified in the Author's Notes.
*** The chapter was inspired by one or more users of the UK of Equestria TeamSpeak.
Each 'volume' of stories will be published as a PDF document, which can be downloaded from my website. Each volume has 15 stories in it.
Chapters (41)