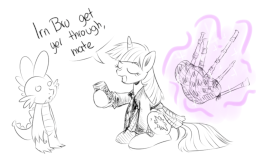 Source
During an experiment, Twilight manages to bring a bottle containing a mysterious orange liquid into Equestria. Her curiosity gets the better of her and she decides to taste it, purely in the interests of science.
She soon finds that the pony body isn't designed to handle the awesomeness that is Irn Bru, at least not without some rather odd side effects. Side effects that her unfortunate assisstant will now have to put up with...
AUTHOR'S NOTES
Comments may contain spoilers.
Inspired by a conversation I had on TeamSpeak with the awesome Sweet Tale (AKA Greatodyer).
I regret nothing.
Chapters (2)