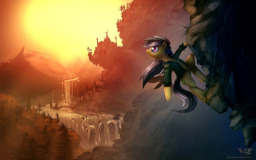 (This story occurs after the events of "Biased and Incomplete")
Rainbow Dash was astonished when she encountered the real life Derring-Do that inspired her favorite string of novels, but was crushed to learn that her hero wasn't what she expected at all. The two parted ways in anger, but Dash hasn't given up on her completely: When an opportunity arises to heal the professor's crippled wing, Dash and Derring go on a real life adventure... but adventures have a way of spiraling out of control. The bookish archeologist knows nothing about swinging from vines and swiping ancient idols (and she prefers it that way), but an unbreakable curse of death forces her to dive right into a frantic race for the greatest discovery of all time: the secret to immortality itself.
Whether she believes it or not, Derring-Do has only a few short weeks left to live. But with the incomparable Rainbow Dash by her side, that's more than enough time to save the world.
Chapters (21)