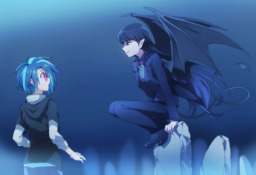 Source
Octavia Melody hid this for years. She is a demon-succubus born in Tartarus and sent to Equestria after her father saw that she was not bad enough, and sending her to Equestria, her father thought she would be a real demon and practice her succubus skills. He was wrong. After many years she maintains a normal life, hiding her identity from everyone, including Vinyl Scratch, her girlfriend. Everything was perfect, till her father, the Lord of all demons, and her mother, the Queen of succubi, makes a visit to the "world above". She only knows one thing about it: She's screwed.
---
Editing by the great VitalSpark and the amazing God of Physics! Give them hugs!
Art by the great megarexetera, used with permission.
Now with Youtube Reading by CaptainBron3y! Get it!
Chapters (16)