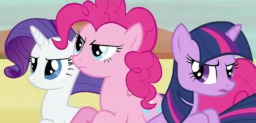 This story is a sequel to Discord's After-Mails
---
The identity of Discord's admirer, now fiancée, has become known to all. Not everypony, however, is pleased with this. Twilight Sparkle, Rarity and Pinkie Pie — three very different mares — get together for a friendly discussion how to make the draconequus pay for the way he's treated them... not forgetting their daily responsibilities, of course!
It is recommended that readers are familiar with all prequels of the Discord Letter Saga before starting this story (for full effect).
Special thanks to Nonagon for editing.
Chapters (1)