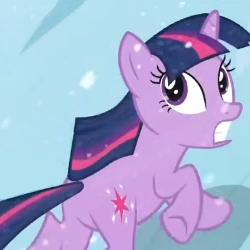 North of bountiful Equestria and beyond the Crystal Empire lies an icy land of cryptic mystery. Its inner reaches have never been explored, but a Canterlot University expedition is set to change this. The plan is simple: penetrate the unknown depths of the Uncharted North and discover its most hidden secrets.
It's a noble undertaking, but a dark cloud looms on the horizon. Princess Luna's dreams have revealed a great but shadowy threat. To minimise the danger, Princess Celestia requests that her most loyal student, Twilight Sparkle, join the expedition and keep everypony safe. With the aid of her number one assistant, Spike, and mailmare Derpy Hooves, Twilight will attempt to do exactly that.
Cthulhu Mythos crossover, inspired by At the Mountains of Madness by H. P. Lovecraft.
Chapters (10)