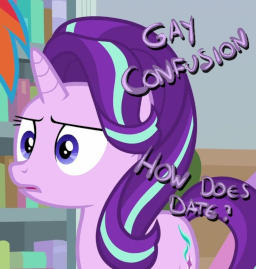 Source
Why does Starlight have a crush on Trixie? What made her think this way? And should she ask her out or not?
Starlight has a lot of questions for herself and they're very confusing. Surely she should be able to find the answers to them if she just gets a second to clear her head. After all, she's the most powerful unicorn spellcaster alive! There's nothing she cannot do if she approaches it with a rational, reasonable mindset.
Probably.
Written for the StarTrixMaud contest. Editing help provided by Lofty Withers and WritingSpirit.
Chapters (1)