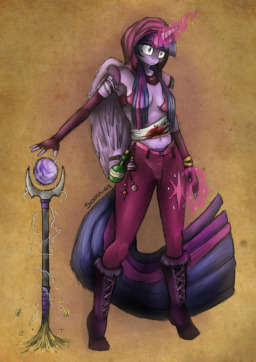 Source
"Sometimes, it's more about the journey than the destination."
Turmoil struck Equestria! Tremors from deep within the earth cause the whole nation to be shook wide awake. Nopony knows where they come from, nopony is able to predict where the next one hits. Though in Canterlot Castle, there is only one soothsayer who has an eye for them. Only one soothsayer tries to make sense out of the mess. That soothsayer is nopony else then Twilight Sparkle.
The unicorn anthrony can't believe the quest that the goddesses of the sun and moon have given to her. That she has to travel to a place where nopony has ever been before in order to stop the terror of the ground. If she doesn't, the land can turn into nothing more but a barren wasteland, extinct from all life. Tasked with a impossible task, the desperate search begins.
A search that is not just about finding the origin of it all, as well as five other beings that should accompany her. Along the way is nothing certain and the anthronies will get to know one another. Perhaps even more than they would have liked. Different breeds and races mixed together for one quest only have to set their differences aside and work together. If not, the land's darkest forces just might get their hands on them. Dark Witches and those living on the other side of the ocean are always lurking for their next victim. Chances are that they all get more than they bargained for.
==============================================================
- Coverart equals anatomy
- Coverart created by Somnias (Simp)
Chapters (100)