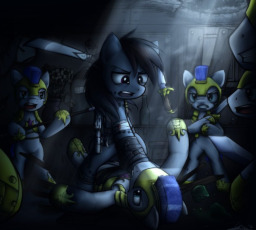 Source
Hey, I'm Rainbow Dash. You probably know me, right? What am I saying, of course you do. Best flyer in Equestria, and all that.
Well, the thing is, I'm kind of in trouble. You probably heard about my friend Twilight becoming a princess, right? Well, she cast this crazy spell and now I don't know where I am. I mean, it looks like Ponyville, but I know it isn't. It doesn't feel right. Ponies are paranoid, and the guards are everywhere.
Worst of all, though, everypony seems to run in fear at the mention of Twilight Sparkle.
What am I going to do?
Chapters (8)