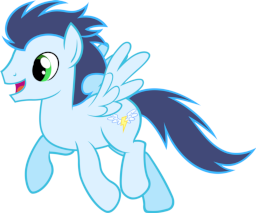 "What the hell?" he muttered. "What happened? He cautiously opened his eyes again.
"Oh…"
He wasn't in his room.
"Oh…" Soarin mumbled again, looking down at the bed beneath him.
He wasn't in his bed.
"Oh my…" He said, his eyes snapping open as his foggy brain put two and two together.
After being discharged from the Wonderbolts and spending an interesting night with a certain rainbow-maned Pegasus, Soarin moves into a new career, Weather Control.
He has no idea what he's in for.
Chapters (12)