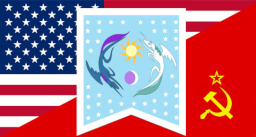 September 7th, 1986. Equestria arrives on Earth and declares humanity 'evil' and 'unfit'.
September 16th, 1986. Talks between the races begin.
Quickly, the Soviet Union and the United States are forced to join forces to save humanity.
For some of the humans this could be a godsend. For many, however, they know what they have to fight for.
The humans know that they can only win together, and they will have to unite in order to prevail.
A/N: This fic will mostly be pro-human rather than pro-conversion.
Chapters (9)