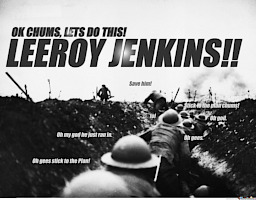 Source
What happens when ponies try to force humanity into their hooves? Well Jenkins of course!
June 2nd, 1942. Two days before the Battle of Midway, two days before the tides of power shift in the Pacific theatre and a new threat looms over the horizon. Multi-coloured ponies talk of a "better existence" and "peace and harmony" but at the cost of losing your humanity. Naturally humanity "politely" declines this offer and the war begins, enemies turned allies face the... well to be frank, the shortest war they've ever fought.
Also did I mention how much I hate The Conversion Bureau?
Warning: Stupidity and terrible writing ahead. Health risks include, but are not limited to, severe brain haemorrhaging, stroke and vomiting.
Continue at own risk.
I do not own anything My Little Pony related in this story, other than the story itself.
Chapters (1)