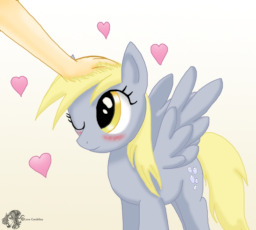 Source
Princess Celestia has invited representatives from every race to come to Canterlot for a conference on equality amongst the regions. One of the attendees, though, is rather interesting... He calls himself a "human," but the Equestrian guard has no record of any humans ever being in Equestria... or of Celestia having invited one to the conference.
So how did he get here? Was he really invited by Princess Celestia? And what will happen when the first pony he meets is everyone's favorite wall-eyed mare...?
Story tagged for "Romance", but there won't be any Derpy-on-human dating or anything like that. It's for other pairings that will be showing up.
Chapters (1)