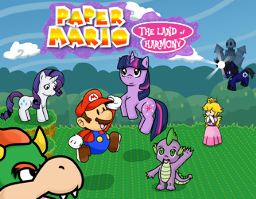 When Princesses Peach Peach and Daisy drag Mario and friends all the way from the Mushroom Kingdom to Equestria, Mario was expecting (for once) a normal vacation. In a land of talking ponies. However, as luck would have it, tragedy strikes during Princess Peach and Princess Celestia's meeting, when the Bearers of the Elements of Harmony are attacked and the Elements scattered throughout a papery Equestria!
Now Mario, Hammer in hand, cap on head, and a baby dragon sidekick at his side, has to save not just Equestria, but the entire world from a sinister plot that was NOT made by Bowser. Cheesy? Yes. Fun? Hopefully!
T just to be safe.
Note: Prologue and Chapters 1 and 2 now have title cards!
Also, cover art is now thanks to my deviantART friend, Neko1Inu2Kitsune3!
Chapters (23)