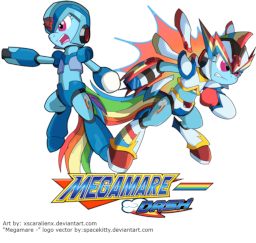 A game crossover idea I have and already written it before.
Rainbows life changes when she finds a strange armor which grants her amazing abilities. She chooses to use it to protect Ponyville and Equestria from a horde of strange creatures. This is the birth of Mega Mare Dash.
All enemies are based off of the game, they will be called Chaos Soldiers. I plan on doing 8 Mega Man X games. Sorry if this is short but I really don't have a lot to say other then enjoy!
Image belongs to xscaralienx. I like it!
Chapters (13)