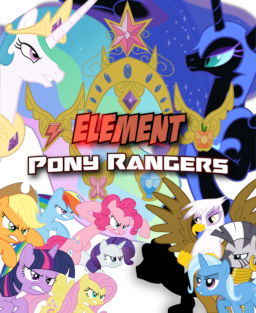 I had this idea for some time and I'm not the only one to write this type of crossover.
When the Evil Nightmare Moon and her minions escape their prison on the moon, Princess Celestia chosen five mares to be a new team, The Element Pony Rangers! My very first try at show I just started to watch and My childhood show. IT MORPHIN' TIME!
As the season continues, more ideas of my own will be added and Twilight will join her friends. I even have other Pony Rangers stories up. Feel free to read them.
Rainbow Dash is Element Red,
Fluttershy is Element Yellow,
Applejack is Element Blue,
Pinkie Pie is Element Pink,
Rarity is Element Black,
And much later Twilight joins as Element Green,
Hope you enjoy it!
Season 1
Cover made by Zenitram like he for Lance Skyes
Chapters (21)