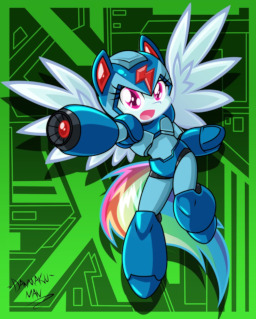 This story is a sequel to Mega Mare Dash
---
Three Months pass since the defeat of the Chaos Soldiers. Now they have return and Rainbow Dash must take up her armor once more to stop them. It the return of Mega Mare Dash!
Here is the second Mega Mare Dash story. I sticking to the Mavericks from the game, and the story will be around Rainbow Dash fighting them. Last time, I base Rainbow upgrades for armor base off the picture, this time I might use the armor from the game. However, if any one wants they can send me a piece of their own armor for Rainbow. I'll place them in the same areas as the game.
And yes Night Star returns but, like before she doesn't show until near the end. Oh, and same cast as before.
Cover belongs to Danmakuman. Not a bad drawing don't ya think?
Chapters (4)