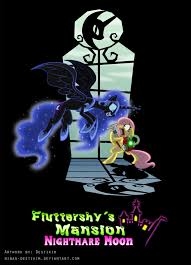 This story is a sequel to Fluttershy's Mansion
---
Fluttershy thought her days as a Ghost Hunter was over. But what she didn't know that it was far from over. When Ghost Studies ask for help, Fluttershy is throw in the Ghost Hunting busies once more, only this time the force behind it is unknown and familiar at the same time. Can Fluttershy handle five mansions instead of one? And can she discover the locations of the Dark Moon?
Base off the Luigi's Mansion: Dark Moon game and a lot longer then the first story.
And there going to be something different in this story. Read to find out, Happy Hunting!
Image own by Niban-Destikim
Chapters (35)