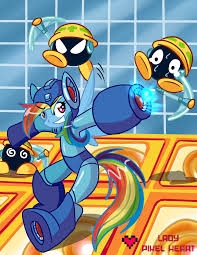 One life, that all she has and had to save. One life and she lost it. Her own life! Then two strange ponies bring her back to life by making her a robot Pegasus. But when one her savors try's to take over Equestria, Rainbow choses to use her new body to stop her. Mega Mare is Born!
This is not related to my Mega Mare Dash stories.
A little base off the classic Mega Man games but will use my own ideas. First chapter has that tragedy slot, there it no more after it.
Cover belong to Lady Pixel Heart.
Chapters (6)