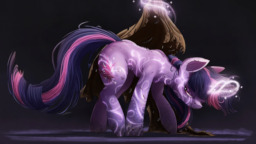 Source
It's been a long, long time since Spike was stolen from her, but Twilight hasn't forgotten nor forgiven. After a long and arduous journey, she has finally found him and his kidnapper.
She will save him.
No matter the cost.
-----
Featured on EQD.
Now with Dramatic Reading by Joehighlord!
-----
Side story: A Dragon Whispers Her Name
Set in the future, after an unspecified amount of time has passed. Accurate to the canon set before 31/01/2013.
Inspired and loosely based on the short film 'Sintel'.
Elements of the story taken from the 'Where the World Ends' universe (by hlissner).
Image is fanart by NCMares.
Pre-read by ThoseRemainingSilent and Bleeding Rain.
Story formerly known as 'Twintel'.
Chapters (10)