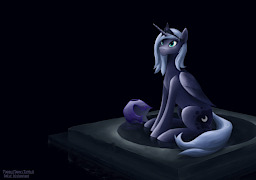 Source
In the first hour of total sensory deprivation, anxiety and paranoia sets in.
After the first two days, hallucinations start to appear.
After the first week, subjects begin to experience total psychosis.
This one has been in sensory limbo for a thousand years. She'll need a lot of help.
And so will I. After all, we're not even the same Maker-damned species.
---
[Luna x OC] [Starts after S1E02] [Fluffy romance]
Credit:
Artwork: http://marbleyarns.deviantart.com/art/Luna-Introspection-309849854
LysanderasD, for help on Luna's archaic speech patterns
Chapters (13)