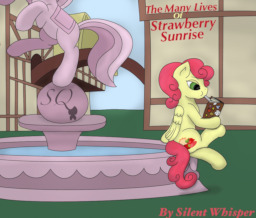 Sitting on the bookshelf in Strawberry Sunrise's new home in Ponyville is a diary.
That's not unusual; many ponies have diaries.
Some of her neighbors have seen her writing in it, wherever she goes.
Again, that isn't terribly strange; many ponies like recording their day-to-day thoughts and activities.
If somepony were to snoop into it, they'd find a few pages of doodles, scratched-out notes, and half-finished shopping lists.
This, curiously, is the peculiar part. Not because of what anypony would read, of course, but because it looks exactly nothing alike to what any changeling would read upon those same pages.
---
Cover art drawn by the brilliant Snow Quill!
Written for Novelle Tale as a gift, with the prompt "a gut punch with FEELS!" I'm grateful she enjoyed it, for she's a phenomenal writer and I highly encourage you all to check out what she's written!
Thank you to Snow Quill, Novelle Tale, Lofty Withers, Zontan, and Mushroom for prereading. Couldn't have written this without you!
Reviewed here by Reviewfilly!
Chapters (3)