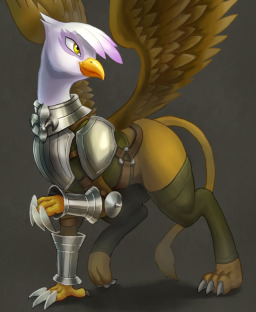 Source
Four years after unhappily departing Equestria, Grizelda Behertz—known to her few friends as Gilda—has at long last begun to turn her life around, returning to the Griffon Kingdom to begin a new career as an Auxiliary Guard soldier. But even as she finally finds purpose and begins her slow rise through the ranks, her life—and that of the entire Griffon Kingdom—will shortly be turned upside-down again.
For the race known as humans, whom Equestria opened a portal to but three years earlier, is finally visiting, sending an Ambassador along with a military escort. Bordered by enemies and in need of new allies, can the Kingdom find common cause with a bipedal race of primates that is somehow both completely backwards yet incredibly advanced? Can Gilda learn to like their oddly interesting yet infuriatingly ignorant civilians who come from a culture completely unlike her own?
And what will become of all of them when an ancient enemy called the Cloven of The Sun emerges, invading and intending to wipe out the entire Griffon Kingdom?
---
Set in the Gentlemanverse, this is both an update and continuation of the original Feathered Heart by the great and sorely missed Fimfiction author Demon Eyes Laharl, containing all-new chapters that fill in gaps in the old story, and eventually continue it from where it left off. The continuation will be written so it will work with either the old or new version of the story. If you have questions or concerns, please read the introductory blog.
---
Original Story Author: Demon Eyes Laharl
Continuation Story Author: Firesight
Prereaders: AJ_Aficionado, Silentwoodfire, and Silverblade5
---
Cover art by Dvorgaz on Deviantart, cropped from the original.
Chapters (27)