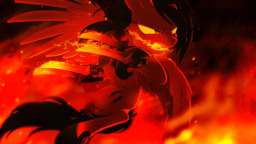 Source
This story is a sequel to Before the Storm: The Rise of Firefly
---
Three hundred years after Luna's banishment, an uneasy peace has collapsed and war erupts between the United Tribes of Equestria and the growing Gryphon Empire, who seek to supplant Princess Celestia as ruler of the heavens and claim the rich lands of the pony nation for their own. With the border defenses shattered, Canterlot endangered and the armed forces unable to stem the onslaught, who can stop the relentless Gryphon war machine as it overruns province after province, scoring victory after victory as it closes in on the Equestrian capital city?
In this time of peril, when the entire pony nation teeters on the brink of defeat, a champion will rise to lead the resistance to the gryphon invasion, becoming not just the commander of an elite force, but a symbol of Equestrian valor and fighting spirit. A born warrior and leader, the name of Firefly will be one day revered as not just the founder of the Wonderbolts, but as Equestria's greatest hero...
---
Taking place seven hundred years before present and canon to both the Gentlemanverse and Turnabout Storm novelization, this is the story of Rainbow Dash's ancestor, the founding of the Wonderbolts, and their role in the bloodiest conflict of Equestrian history.
---
Writers: Leo Archon and Firesight
Prereaders: AJ_Aficionado, SilentWoodFire, TheGoldCrow, Denim_Blue
Guest Writers: AJ_Aficionado, Denim_Blue
Maps of Equestria and Equis: https://www.fimfiction.net/chapter/1105220
Chapters (34)