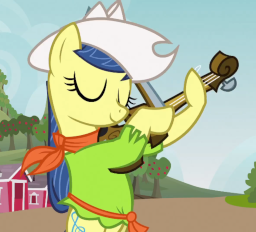 Everypony in Ponyville is celebrating the heroic return of the creatures who saved Equestria from Queen Chrysalis' evil kidnapping plot.
Everypony is happy to hear the news that the changelings, once the ponies' most terrifying enemies, have been changed by the power of friendship into something beautiful, something wonderful, and most of all, something friendly.
Maybe it's not the best time for Fiddlesticks to take Applejack aside to share her darkest secret, then. But secrets, like guilt and shame, have a way of burning inside you, demanding to come out.
Second place in a Quills and Sofas contest. Seriously, come check us out, it's fun!
Editing by Stinium Ruide. (Thanks so much!)
Prereading by several Quills and Sofas members, including The Red Parade, wishcometrue, Vis-a-Viscera, rainsilent, Krazy, and Decaf.
Chapters (1)