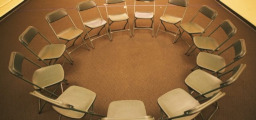 On an evening in Canterlot, a group of weary ponies gather to discuss their differences and take solace in each other.
Content Warning: this fic explores the idea of suicide and follows characters who have either attempted or were affected by someone who attempted suicide.
Please please please proceed at your own discretion.
---
Written for the Quills and Sofas Character Sprints contest: each character scene was written in five minutes.
All characters: Applejack, Sweet Pepper, Luna, Spitfire, Fiddlesticks, Lightning Dust, Sweetie Belle, Autumn Blaze, Starlight Glimmer, Wallflower Blush.
Chapters (1)