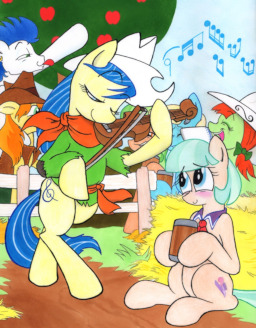 Source
Coco Pommel is a little different from most other mares and it's made her life one of shy self-exclusion. When she's approached by a beautiful and amorous free-spirit at the Apple family's latest shindig, she has to decide if she can be as open and accepting of herself as others may be.
Rated Teen for saucy dialogue and innuendo and alcohol use. It's a Hootenanny. ;)
A last minute entry to the Pride and Positivity event! Extended to July 15th, each fic submitted will count as a donation to LGBTQ+ charities, or similar humanitarian efforts! In my case, I'll be tickled rainbow to see my submission go towards assisting https://transgenderlawcenter.org/ If y'all would like to help some folkes do some good in this world, look into submitting your submission as well. Big Love to all y'all and Happy PRIDE Month!
Chapters (1)