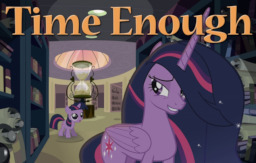 Star Swirl never did write a time travel spell.
To keep history intact, Princess Twilight and Luster Dawn must go back in time to place a scroll in the Canterlot archives where it can be found by the younger Twilight Sparkle. But when they run into other ponies in the past, will they do more harm than good?
---
An entry in the Most Delightful Ponidox.
Thanks to Solstice Shimmer, MitchH and Oliver for editing and assistance.
Chapters (2)