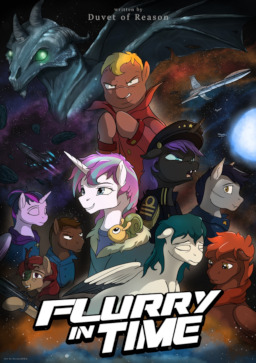 Life's tough when you're the most-wanted mare in the galaxy...
Half the world wants you dead. The other half is afraid of your help.
Flurry Heart has turned her back on her family, friends and society, but when a desperate call for help arrives, she is reminded that some things still matter. Now, she must battle her demons from the past to save those she loves - but they have demons of their own they must deal with as well.
---
Co-writer: Recon777
Many heartfelt thanks go out to my editors:
Developmental Editing: Recon777, BernardDK, Pawz
Line Editing: Recon777
Copy Editing: TranquilClaws
Proofreading: Oberth Effect
Without their encouragement and support, this fic wouldn't have been possible.
Check out BernardDK's other awesome art here!
Prereaders: Word Worthy, Flutterfinar. Orionwolf, Plonkett
A special nod to Pen Stoke for inspiring the character of Nyx.
Now with a review! https://issuu.com/equestriatimes/docs/040/s/10947601
Chapters (24)