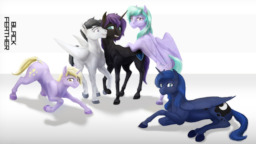 In the heart of Equestria, shadows gather and secrets lie buried. A young alicorn named Nyx carries the weight of a dark past, while a relentless adversary seeks revenge that could shatter her resolve. As a deadly game of intentions unfolds, alliances will be tested, and the boundaries of morality blurred. Unveil the enigmatic journey where loyalties waver and a sinister peril looms, threatening to unleash chaos upon an unsuspecting land. 'Black Feather' is a tale of mystery, vengeance, and the choices that define heroes and villains.
---
Special thanks to Pen Stroke for writing Past Sins and inspiring this story.
Thanks also go to my friends, colleagues, and editors over the years, who helped make this project what it is.
DuvetofReason for helping shape the vision of the universe
Pawz for support and consistency help
BernardDK for inspiration and artwork
OrionWolf for detail coaching in 2016-2018
OnlyaNorthernSong for help with Nyx's characterization way back in 2015-2016
TundraStanza for proofreading
A host of others for a myriad of contributions ranging from painful to awesome but all shaped the story.
Chapters (13)