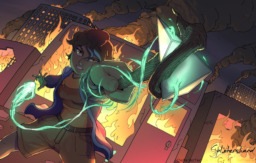 Source
This story is a sequel to Sunbeam
---
Whisked away by a voice in her head calling herself "Starlight Glimmer", Emily Ashton finds herself in a land far different from anything she'd ever expected.
If only getting back was going to be as easy.
Reading the prequel is not necessary to understand this story.
Chapter format: Major arc | minor arc ◈ Themed chapter title
---
---
Based partially on lore hinted in The Old Collector. This is the first story taking place within the Splintershard Continuity.
This story is a cumulation of many, many previous works and tropes of mine.

Cover art by JodTheCod. Preread by Thunderous, ScopingLandscape, Babroniedad, Darksoul85, and last but not least, the Write On! community.
Formerly preread by AnObliviousAuthor.
---
---
Chapters (32)