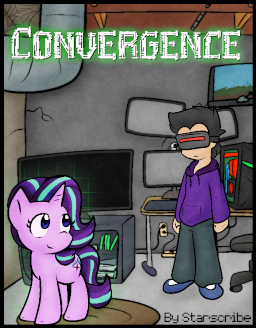 Ronald Lee is the systems administrator for one of the largest fan-made online games in the world. Though nothing new has been produced for MLP for decades now, fans old and young continue to flock to the online version of Equestria they're building together.
Of course he knew that the programs they wrote would grow more intelligent over time. With cheaper hardware and better AI, this was always expected, and a user experience allowing for content similar to the show to be produced in real time for every user was always tantalizingly close.
Then Starlight Glimmer started talking to him.
---
This story is a prequel to Synthesis, and doesn't require knowledge of that story. You may want to check it out when you're done here, however.
This story was commissioned by Two Bit, who also helped edit because he is an absolute mad lad. Sparktail helped too.
Cover by Zutcha
Chapters (8)